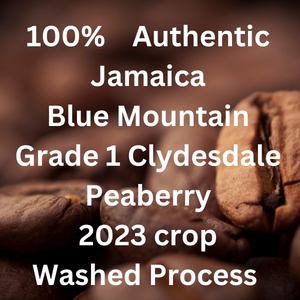 Roast Level: 
Country: Jamaica
Region: Surrey County, St Andrew Parish
Estate: Clydesdale

Altitude: 1000-1200 meters
Varietals: Typica Peaberry
Process: Fully Washed, sun-dried
Grade: Grade 1
More Information: 
Jamaica Blue Mountain Coffee hardly needs an introduction. The famed Blue Mountain Range spans the eastern county of Jamaica, Surrey County. Its highest peak tops out at 2256 meters. Within the mountains, the coffee is cultivated in a very small and strictly designated area by the Industry Board of Jamaica. The conditions are considered to be some of the most ideal for coffee cultivation in the entire world, with a cooler tropical climate, and mineral-rich, volcanic soil which allows for proper water drainage. 
Once mother nature has done its magic, the beans are carefully and meticulously hand-picked, pulped, processed, and graded. They then go through a rigorous and extensive inspection process before being shipped to our roaster. We roast these beans in small batches to coax out their subtle and rich flavors.